And yep. I'm switching up my Fridays AGAIN.
I'll get it right eventually ...
"Five on Friday" was fun and all - but what if I can't think of five things to say!?
OR - the more likely question (if you really know me, you'll agree) ... what if I have MORE than five things to say!?
And then I thought of my days in kindergarten - and how I have ALWAYS - since the beginning of my teaching time (nine whole years ago) - celebrated "Fun-day Friday" EVERY Friday. So why not here on Little Lucy Lu, as well ...
So ... Fun-day Friday's the name - and fun & random thoughts from yours truly are the game.
1. I had my
VERY FIRST GIVEAWAY
on this here blog the other day. (Please go check it out and enter if you missed it! Those cards would make such great thank you notes or hostess gifts or housewarming gifts or ...). The winner will be randomly selected on Sunday, so you've still got time!
2. In other blogging news...........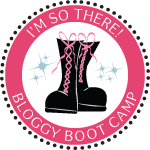 As the button says ... I'm So There! Yep, yep! I'm headed to Bloggy Boot Camp in Seattle with one of my BFFs. We are SO excited! Blogging and Seattle - yes and yes!
Anybody else??? I think it would be EXTRA-awesome if I knew I was going to meet some of the bloggers out there that I already "know" -- so please tell me there's at least ONE of you out there!?
(And I'll just go ahead and apologize now for driving you crazy with the amount of times I will undoubtedly mention this in the next two months -- I'm just a tad bit FREAKING EXCITED.)
3. Did you hear Snow White lives at my house now...?
We
are quite into playing "dress up" these days ... but
we
don't want any help, either - hence, the inside-out skirt. You should see her walk in the high heels that usually go with the outfit ... :)~
4. If you're looking for a movie to go see this weekend ... I highly recommend this one:
I went to see it last weekend, and I loved it. Cried my eyes out. But what a great message.
5. American Idol ... bye-bye, Paul.
Kinda sad. I thought he was very unique. (His voice
and
his floral-embroidered suits.)
But then again, I really didn't see him winning, either...
6. I have some serious catching up to do in my photography class (
again
) this weekend. I might be a good-enough teacher, but apparently I'm a terrible student.
Thank goodness this class is online and I don't actually have to turn things in on time - otherwise, I'd be flunking and my teacher would hate me.
I wouldn't like that. My teacher ROCKS. (
Karen at Snapshots of a Good Life!
)
7. I also have some serious catching up to do on my
40 Bags in 40 Days
challenge ...
Yeah. Remember this?
Me neither
.
Just kidding. I'm still pluggin' along ... I think I've crossed 28 bags off the list, and I still have nine days 'til Easter. OK, so I'm a little behind. But the good news is - my house is minus 28 bags of
stuff
that would otherwise be sitting around, collecting dust. Hooray for my house! :-)
8. And since good ol' Mr. Sun
is supposed to actually make an appearance 'round these parts this weekend ... we might actually make some progress on our garden, too!
Looks like I've got a busy weekend ahead.
Where to fit in that shopping trip I mentioned a couple of days ago...?
HaPPy WeeKeND To You!