Woohoo! I'm so excited for my
Bloggy BFF Sara over at Sweet Little Gals
.... she is starting a BRAND NEW link party today!
It's a Sweet Little Photo Swap!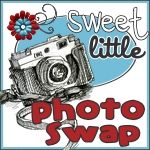 Go check it out!!! (won't you, please!?)
And meanwhile .... you can check out my five favorite photos from the week, too.
The SUN has FINALLY made its appearance here in Oregon ... I love that this photo totally shows that! :-)
We spent a lot of time at the beach this week, and I couldn't pick just one favorite picture from the bunch .... so you get three.
I think this might be one of my favorite pictures of my babes....
And finally, we have yummy ripe strawberries in our garden! (more about that later in the week ...)
Lucy LOVES to pick (and EAT!) as many as she can get her hands on! :-)